Let's cut to the chase. If you have a small to medium size garden to clear, this is an ideal chainsaw for you. The Stihl MSA 120 C-BQ battery-operated chainsaw is lightweight and cordless, and according to Stihl, you should be able to get up to 100 cuts of 4-inch tree branches before the battery runs out.
Table of Contents
The Stihl MSA 120 C-BQ Battery Chainsaw is a battery-powered chainsaw that has been designed for the homeowner who needs to cut up firewood and is perfect for cutting firewood, clearing brush, and other outdoor tasks. The chainsaw has a chain brake, which helps to make sure that the saw stops as soon as you release the trigger. This can be very important when you are cutting up logs with a lot of knots in them.
Stihl is a renowned brand in the world of chainsaws. The company's MSA 120 C-BQ is a reasonably powerful chainsaw that you can buy for your home. It boasts a few good features that make it very easy to use and maintain.
It also features an automatic chain oiler for continuous lubrication and a low kickback bar and chain for added safety.
Battery life
The Stihl MSA 120C-BQ is a lightweight, powerful, and easy-to-use chainsaw. It's perfect for cutting firewood, clearing brush, and other outdoor tasks. The MSA 120C-BQ is powered by a 40V Lithium-Ion battery that provides up to 55 minutes of runtime per charge.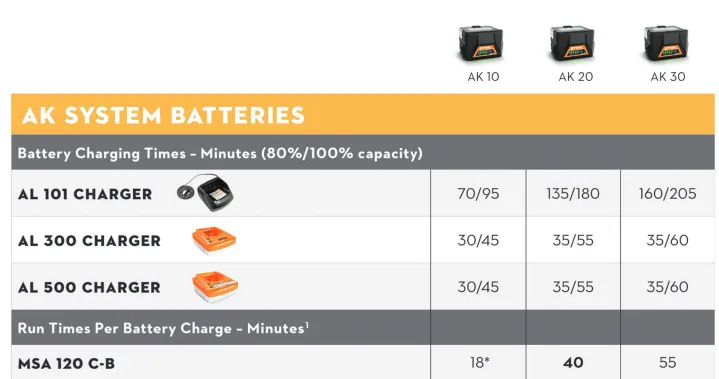 Usability and comfort
It is lightweight and easy to use. It has a durable design and is perfect for cutting firewood, pruning trees, and other light-duty tasks.
Quick chain adjuster – a no-tool way of adjusting tension in the chain (some people love this feature some hate it).
Coast-down brake – An additional electrically controlled braking feature to stop the rotating chain when the trigger is released.
Stihl Quickstop – basically stops the chain when you get too much kickback, another safety feature.
Has a comfortable non-slip rubberized handle
5.5 lbs (2.5kg) without a battery – very light to hold, use and carry around.
Automatic chain lubrication – make sure to store this flat so it doesn't drip oil all over the place when not in use.
The Stihl MSA120C-BQ is a battery-operated chainsaw that is lightweight and easy to use. The chainsaw has been designed with an ergonomic handle that makes it comfortable to work with. It is perfect for cutting firewood, pruning trees, and other light-duty tasks.
Durability and maintenance
The Stihl MSA120C-BQ has an automatic chain oiler system which helps keep it oiled (just keep the oil topped up when required. As with the battery, always keep a second one fully charged up so the chainsaw is ready to go when needed. As with all Li-ion batteries the efficiency decreases over time and will eventually need to be replaced.
There are no requirements for gas and oil mixing, cold starts, or anything else that can make this a potential problem to maintain and run compared to non-battery chainsaws. Simply pop in the battery and get started.
Pros
Powerful chainsaw with plenty of power for domestic use.
The automatic oiling system is very helpful.
Compact and lightweight design is easy to use and transport.
Excellent safety features, including a chain brake.
Easy to clean, easy to start, and use.
Cons
The battery needs charging after 8 hours of use (but it comes with a spare).
The bottom handle can get hot when in use for a long time (as reported by some owners).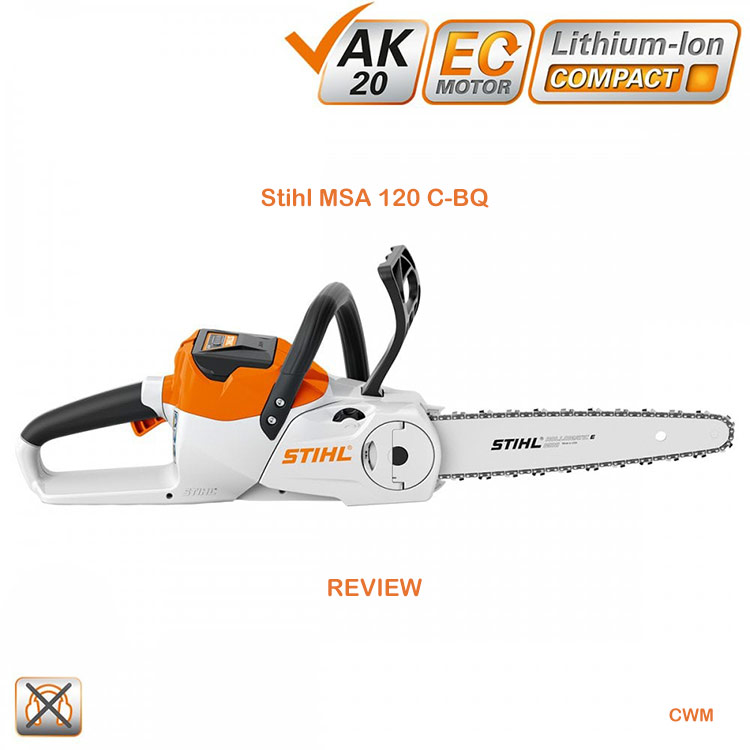 Stihl MSA 120 C-BQ Specifications
Weight (without battery): 2.5kg
Cordless Technology: Lithium-Ion Compact
Run Time with AK20 Battery: up to 40 mins
Run Time with AK30 Battery: up to 55 mins
Chain Gauge: 1/4″P
Vibration Levels left/right m/s: 3.4/3.2 m/s
Sound Pressure Level: 84 dB(A)
Sound Power Level: 95 dB(A)
Oil Tank Volume: 209 cm
Stihl MSA 120 C-BQ Chainsaw Review: Final thoughts
The chainsaw is above average in the world of battery-operated chainsaws in quality, although sadly it does not have a brushless motor (which most chainsaw professionals say is a must these days). All around it is a light-duty alternative to petrol chainsaws and ideal for most home garden uses, but not really for professional all-day use.