EGO's 16-inch battery-powered CS1611 chainsaw receives a performance upgrade in 2023. As a leading provider of 56-volt battery-powered lawn care equipment, EGO continues to push the boundaries of innovation. Despite the company's existing chainsaw product, customers may still question what new features will be introduced.
Table of Contents
Performance
The EGO 16-inch battery-powered chainsaw has received notable performance upgrades, including increased power, a flip-top oil reservoir cap for convenience, durable metal bucking spikes, and tool-free chain tensioning with improved adjustability compared to the previous model.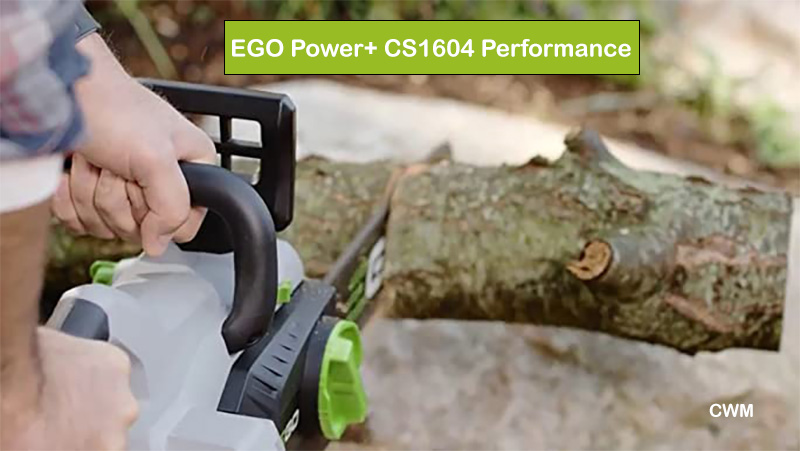 The EGO 16-inch battery-powered CS1611 chainsaw has had a performance upgrade despite maintaining its current bar size. The updated model boasts a brushless motor with power equivalent to a 40-cc gas engine, achieving chain speeds of up to 20 meters per second (65.6 fps or 3937 fpm). Our tests confirm the noticeable difference in performance compared to the previous model, which was already an impressive performer for a battery-powered chainsaw. With this upgrade, the EGO chainsaw can now more directly compete with gas-powered models in the 16-inch class.
Design
An exciting new feature of the upgraded EGO 16-inch battery-powered chainsaw is the inclusion of metal bucking spikes. The previous model only had plastic nubs, making the addition of metal spikes a significant improvement. These metal spikes have a better grip on wood, making the chainsaw more effective and efficient in operation.
Another notable improvement made to the EGO 16-inch battery-powered chainsaw is the replacement of the oil reservoir cap with a more user-friendly flip-top design. This upgrade enhances the ease of use for the chainsaw by making it simpler to open and tighten the oil reservoir cap.
The sprocket cover now features a flip design, while the auto chain-tensioning adjuster has been switched from a dial to a knob. Although the process remains the same, with users only required to loosen the cover (without removal), adjust the chain tension using the knob, and then re-tighten the cover, these changes enhance the tool-free chain tensioning system, making it easier to adjust the chain tension to desired levels.
Despite the convenient tool-free system for adjusting chain tension, some individuals on our team still prefer the traditional method using a scrench and bar studs with captured nuts for added security. Nevertheless, for light to medium tree maintenance and cleanup tasks commonly handled by homeowners, the EGO's tool-free system works effectively and efficiently.
Additional Features
Capable of making up to 130 cuts in 4×4 lumber using a 2.5Ah battery
Features a low kickback chain for enhanced safety
Equipped with a brake indicator and safety lockout button for added safety measures
Comes with an automatic oiling system for ease of use
Compatible with all EGO 56V batteries
EGO CS1611 Chainsaw Pros and Cons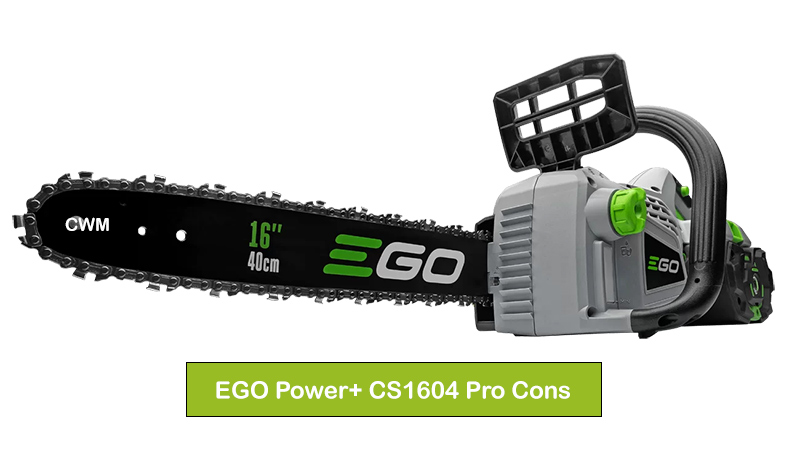 Pros:
Improved power compared to the previous 16-inch model.
Convenient flip-top oil reservoir cap.
Durable metal bucking spikes.
Tool-free chain tensioning with easier adjustments than the previous design.
5 Year Warranty.
Cons:
If you use a chainsaw in brush, the chain may come off the bar more easily than if you use it in other situations (common to other brands too).
No significant drawbacks identified.
EGO 16-Inch Battery Powered Chainsaw Price
The EGO CS1611 kit, which includes a 2.5Ah battery and charger, is priced at $269, while the kit with a 4.0Ah battery (EGO CS1613) costs $299. The bare tool (EGO CS1610) is priced at $219 and can be used with existing EGO batteries.
Regardless of the configuration, EGO offers a 5-year warranty on the chainsaw, providing customers with additional peace of mind.
Who Is This Chainsaw For?
The EGO CS1600 chainsaw is a versatile tool suitable for a wide range of users. It offers a user-friendly alternative for those who may be hesitant about using a gas-powered chainsaw due to the ease of starting, which is comparable to flipping a light switch.
Not only is the CS1600 easy to use, but it also offers an eco-friendly and safe solution for those who are concerned about the environment and their own well-being while working outdoors.
EGO CS1611 Specifications
40CC gas equivalent
Up to 130 cuts on a 4×4 with the recommended 56V 2.5Ah ARC Lithium™ battery
16-inch bar and chain
20m/s chain speed
IPX4-rated weather-resistant construction
Tool-free chain tensioning system for quick, easy bar and chain adjustments
Low kickback chain design with brake indicator
Automatic oiling
Spill-free oil reservoir
3/8-inch pitch, .043-inch gauge chain, 52 drive links
5-year tool warranty
Price: $219 – $299
EGO CS1611 Chainsaw FAQ
What is the warranty on this chainsaw?
If you buy the EGO CS1611 chainsaw from an authorized EGO retailer, you'll receive a 5-year limited warranty. In addition, EGO Power+ System battery packs and chargers purchased from authorized EGO retailers come with a 3-year limited warranty.
How long does the EGO CS1611 battery last?
The number of cuts that can be made with different EGO batteries varies. Specifically, a 2.5Ah 56V battery can provide up to 130 cuts, while a 4.0Ah battery can provide up to 220 cuts. If you opt for a 5.0Ah battery, you can make up to 300 cuts, and if you choose a 6.0Ah battery, you can make up to 330 cuts.
Which charger can I use with the chainsaw batteries?
EGO chargers are designed to be compatible with all EGO batteries, regardless of their capacity. While a rapid charger can charge an EGO battery faster than a standard charger, both chargers can be used interchangeably to charge any EGO battery.
What are the steps to adjust a loose chainsaw chain?
The tool-less chain-tensioning knob makes it a breeze to adjust a loose chainsaw chain. For more detailed guidance, please refer to the owner's manual (available manuals on this website free download).
Conclusion
The 16-inch class is ideal for homeowners handling seasonal tree maintenance and storm cleanup, and the improved performance of the EGO 16-inch battery-powered chainsaw makes it an even better choice. The upgraded model strengthens EGO's chainsaw line and strikes a balance between performance, design, and price. For customers seeking the best all-around option in EGO's lineup, the updated 16-inch chainsaw is highly recommended.