The U.S. Consumer Product Safety Commission has announced that DeWalt has recalled its 18-inch corded chainsaws of model DWCS600 Type 1 due to their tendency to continue operating even after being turned off. These 15-amp DeWalt chainsaws, which were manufactured in Mexico and sold in the United States, pose a potential hazard to consumers.
The Consumer Product Safety Commission (CPSC) has announced the recall of over 8,000 DeWalt DWCS600 Type 1 corded chainsaw. These 18-inch, 15-amp chainsaws pose a potential hazard to users.
According to a statement from the Consumer Product Safety Commission, the DeWALT DWCS600 18-inch corded chainsaws can continue to operate even when the switch is in the "off" position or start up on their own when plugged in, posing a risk of injury to the user.
If your chainsaw is affected, STOP USING IT IMMEDIATELY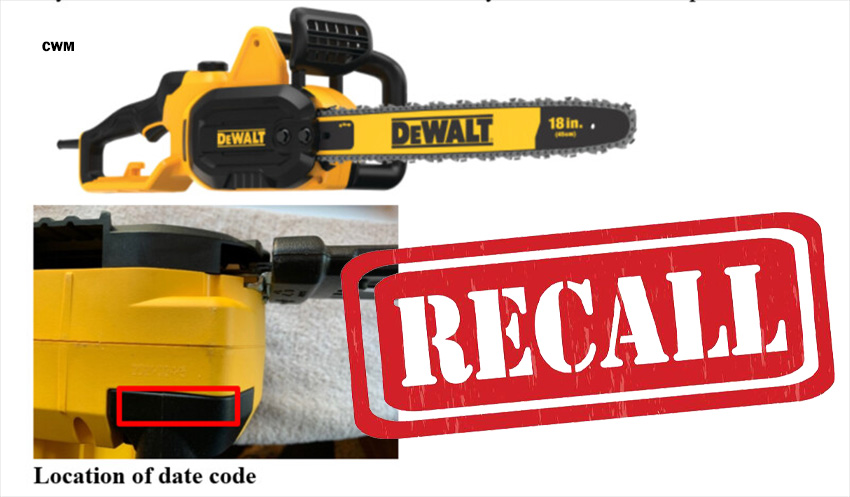 The recalled chain saws are yellow with a black handle and motor cover and have date codes 2021 23-H5 to 2021 40-H5.
The date code is stamped on the bottom of the chain saw, behind the chain/bar. DeWALT and 18-in. are written on the blade.
"Consumers should immediately stop using the recalled chain saws and contact DeWalt to receive a pre-paid shipping label to return the product directly to DeWalt in order to receive a free replacement chain saw," the CPSC said in a press release.
Only Dewalt chainsaws with date codes 2021 23-H5 to 2021 40-H5 are affected.
If you are unable to locate the date code on your chainsaw or if it is not present, it is advised that you consider your chainsaw to be part of the recall and reach out to the company for a replacement. You can contact DeWalt by calling their toll-free number at 1-855-474-5875 between 8 a.m. and 6 p.m. Eastern Time from Monday to Friday, or by sending an email to [email protected].
As per the notice, the company will provide a free pre-paid shipping label to customers for returning the product. In exchange, they will receive a complimentary replacement.
Sold At:
Hardware and tool supply stores nationwide
Importer(s):
DeWALT Industrial Tool Company, of Towson, Maryland
Recalled chainsaw model:
DeWALT DWCS600
Manufactured In:
Mexico
Recall number:
22-059