A product recall, this time with Sun Joe, has issued a safety warning for its cordless lawn mower models 24V-X2-17LM and 24V-X2-17LM-CT. The company has identified a potential hazard with these mowers and is advising consumers to immediately stop using them.
The recall affects over 30,000 units sold in the United States and Canada. According to the recall notice, The Sun Joe cordless walk-behind lawn mowers have been recalled due to a potential safety hazard. The mowers, which have a 17-inch cutting width and are light green and black in color, weigh approximately 35 pounds and measure 44 inches tall by 19.5 inches wide.
Consumers are advised to check the model number on the label located on the rear of the lawn mower. The recalled models have the model numbers 24V-X2-17LM or 24V-X2-17LM-CT.
If your lawn mower is part of the recall, stop using it immediately and contact Sun Joe to arrange for a free repair or a full refund.
Name of Product: Sun Joe Cordless Lawn Mowers models 24V-X2-17LM and 24V-X2-17LM-CT
Hazard: The mower blade can detach unexpectedly, posing a laceration hazard.
Remedy: Repair
Units: Over 26,300 (In addition, more than 350 were sold in Canada)
Consumer Contact
Snow Joe at 800-641-2917 from 8 a.m. to 8 p.m. ET 7 days a week, by email at [email protected], or online at https://snowjoe.com/24v-x2-17lm-recall or https://snowjoe.com/ and click on "Safety Recall" at the bottom of the page for more information.
The safety of our readers is of paramount importance, and we encourage anyone who owns one of these models to take the necessary precautions as soon as possible. It is crucial to act quickly to prevent any potential injuries or damage.
Sun Joe has stated that it is committed to ensuring the safety and satisfaction of its customers and has implemented measures to prevent such incidents in the future. The company has also reported the recall to the United States Consumer Product Safety Commission and the Canadian Consumer Product Safety Directorate.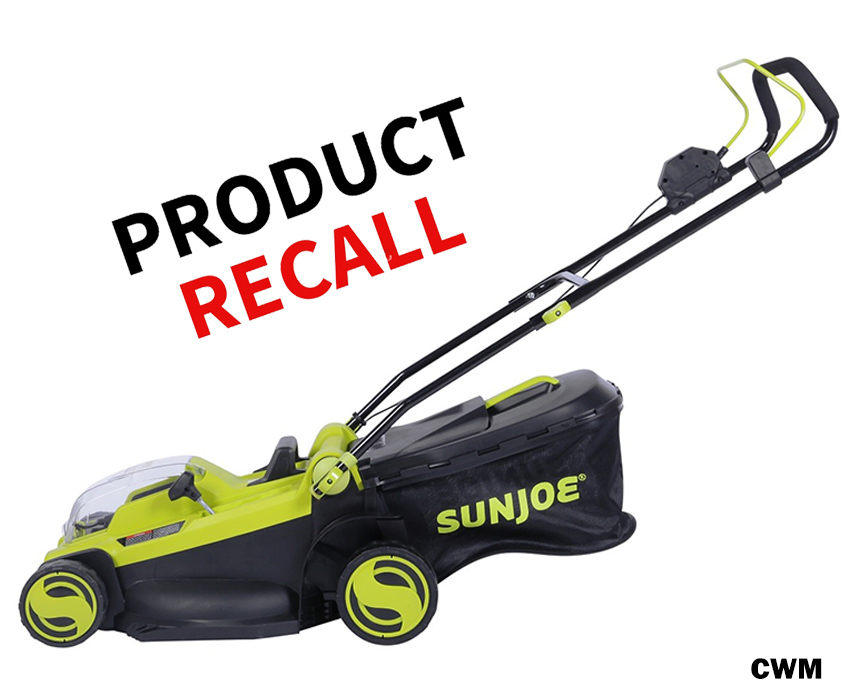 Remedy
To address the safety concerns associated with the recall of cordless lawn mowers models 24V-X2-17LM and 24V-X2-17LM-CT, consumers are advised to take the following actions.
First, it is crucial to immediately stop using the recalled lawn mowers. Second, consumers should contact Snow Joe to receive instructions on how to determine if their lawn mower is included in the recall. If the lawn mower is affected, consumers will receive instructions on how to inspect and secure the lawn mower blade.
Incidents/Injuries
According to the latest information available, the firm has received 31 reports of either the blade or the bolt securing the blade on the recalled Sun Joe cordless lawn mowers models 24V-X2-17LM and 24V-X2-17LM-CT detaching.
Retailers Selling Affected Sun Joe Cordless Lawn Mowers
The Sun Joe cordless lawn mowers models 24V-X2-17LM and 24V-X2-17LM-CT were widely available for purchase from June 2020 through July 2022. These products were sold at various retailers, including www.amazon.com, www.homedepot.com, www.walmart.com, and www.snowjoe.com, as well as at hardware, electronics, and department stores across the USA and Canada.
Importer
Snow Joe LLC, of Hoboken, New Jersey, USA
Country of Origin
China
Serial Number Ranges
0200920000001-0200920000366;
0200930000001-0200930003294;
0200940000001-0200940002196;
0219250000001-0219250000366;
0219260000001-0219260000366;
0219270000001-0219270000366;
0256230000001-0256230001830;
0258410000001-0258410001464;
0258420000001-0258420001830;
0260770000001-0260770001830;
0260860000001-0260860000732;
0262090000001-0262090002196;
0262860000001-0262860001464;
0262870000001-0262870000366;
0264540000001-0264540000366;
0264550000001-0264550000366;
0264560000001-0264560000366;
0264570000001-0264570000366;
0264580000001-0264580000366;
0302830000001-0302830000366;
0328140000001-0328140000366;
0328150000001-0328150000366;
0328160000001-0328160000366;
0328170000001-0328170000366;
0328180000001-0328180000366;
0328190000001-0328190000366;
0332730000001-0332730000366;
0332740000001-0332740000366;
0332750000001-0332750000366;
0332760000001-0332760000366;
0332770000001-0332770000366;
0332790000001-0332790000366;
0332800000001-0332800000366;
0332810000001-0332810000366;
0332820000001-0332820000366;
0332830000001-0332830000366;
0334620000001-0334620001098;
0200920000367-0200920000732;
0238630000001-0238630000366;
0260850000001-0260850000366;
0334560000001-0334560000350;
0357320000001-0357320000420