As technology advances, so do the tools we use to keep our lawns looking their best. Robot mowers are after your job! Next time you look over your neighbor's fence, you may well see a robot lawnmower lurking near the hedge.
Gone are the days of manually pushing a heavy mower around the yard; now, there are robot lawnmowers that can handle the hard work for you. With so many options on the market, it can be difficult to choose the best one for your needs.
In this Robot Lawn Mower review guide, we'll take a look at some of the top robot lawnmowers for 2023, so you can make an informed decision when it comes to automating your lawn care routine.
Table of Contents
Husqvarna Automower 315X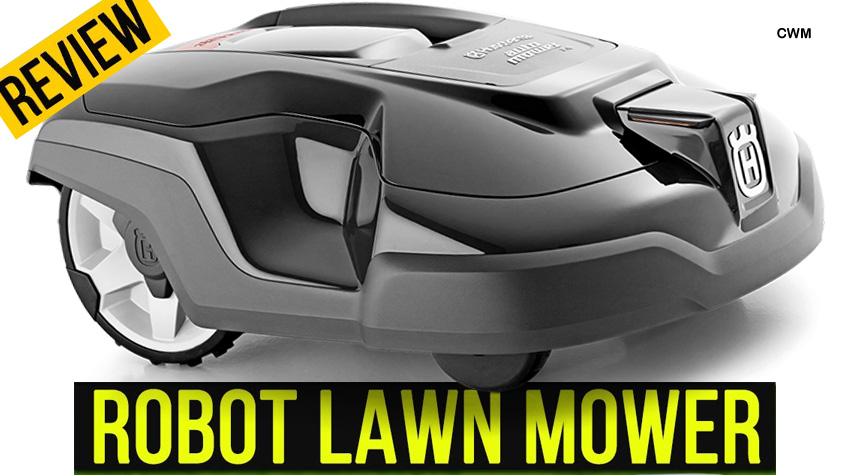 Husqvarna is a well-known brand in the world of lawn care, and their Automower 315X model is a top choice for many homeowners. This robot lawn mower is designed for medium-sized lawns, and it uses GPS navigation to move efficiently around the yard. It also has a large cutting capacity, which means you won't have to refill the grass catcher as often. Additionally, the Automower 315X has a quiet operation, making it ideal for use in residential areas.
How is the Husqvarna Automower 315X installed? Installation is not included in the price of the mower, and while you can do it yourself, laying both the boundary and a guide wire (a feature unique to Husqvarna brands) may be a big undertaking, so it's worth asking a local Husqvarna dealer how much it will cost to install the mower for you.
Is the Husqvarna Automower 315X easy to program? The Automower keypad is simple and easy to use, but it can also be configured through an app on a smartphone, eliminating the need to hunch over the keyboard. The software also allows you to get alarms and monitor the mower in the event of theft, and it is compatible with Amazon Alexa and Google Home, allowing you to use voice commands to start, stop, and park the mower.
The cut height is also easily adjustable by twisting a switch on the top of the mower.
How does the Husqvarna Automower 315X cut grass? The Automower is unobtrusive and quiet, and its three free-hanging blades cut nicely. It has a GPS Smart mowing technology that maps the lawn before mowing and maintains track of where it has cut, allowing it to handle even the most complex grass designs. It can handle 60cm small tunnels as well as slopes of up to 40%. It 'bumps off' elevated beds to cut around them, although the margins were not as smooth as others in similar places.
Pros
It is simple to program and adjust.
GPS navigation and guide wire system that is smooth, efficient, and silent
Voice control and connectivity
High level of protection
Cons
For the same price, the maximum area is smaller.
Automower is packed with features such as GPS, connection, and solid security, and it operates well on difficult layouts.
What are the features of the Husqvarna Automower 315X? All Husqvarna models (as well as other Husqvarna brands such as Flymo and Gardena) include a proprietary Guide wire as well as a boundary wire that directs the mower back to the docking station when it is completed mowing or needs to be recharged. It can also set up different starting positions for more effective mowing of irregularly shaped lawns.
It also contains LED spotlights that illuminate when a fault occurs, as well as a spiral cutting option for removing clumps of lusher, quicker growth.
Husqvarna Automower 315X Specifications
Powered by
Lithium-ion battery
Battery charge time
45min(s)
Battery life
60min(s)
Cutting height
20-60
Number of cutting height settings
9
Cutting width
22cm
Lawn size suitable for
1,600m²
Mulching
Yes
Smart compatibility
Yes
Noise
60dB
Weight
10.1kg
Warranty
3YEAR
No
Feature notes
Warranty 3 years if professionally serviced otherwise 2 years
Husqvarna Automower 315X Specs
WORX Landroid M 20V (WR147) Robotic Lawn Mower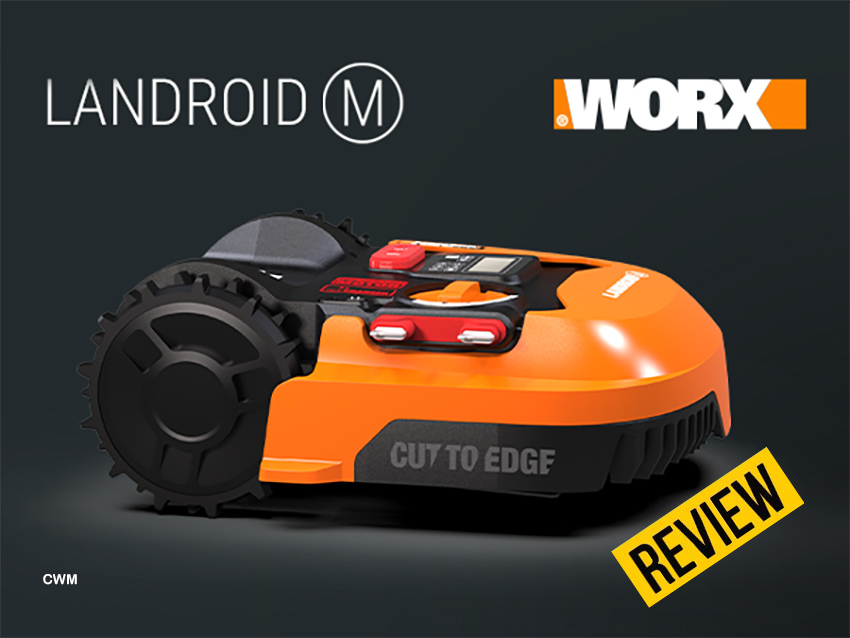 If you're looking for a slightly more budget-friendly option, the WORX Landroid M 20V Cordless Robotic Lawn Mower is a great choice. This model is easy to set up and use, and it's also cordless, so you won't have to worry about tangled cords or limited mobility. The Landroid M 20V is designed for small to medium-sized lawns, and it uses a 20V battery for power. This robot lawn mower also has a compact design, which makes it easy to store when not in use.
The WORX Landroid M 20V has outstanding cutting performance, is simple to program, and is quite quiet. It has GPS and Wi-Fi radios, as well as a helpful mobile app.
Design and Features. The WR147 is painted in the same black-and-orange style as its predecessor and features the same floating deck construction, which allows it to move over hills and slopes without scalping your grass. It is 10 by 15 by 22 inches (HWD) and weighs 21 pounds. It features two 8-inch rear wheels and a single front wheel.
It utilizes a spinning disc with three revolving cutting blades to achieve a somewhat narrow 7-inch cutting breadth, however, this model is intended for smaller (quarter-acre) lawns. There are more competent robot mowers available if you have a larger lawn). Cutting heights may be modified using the large circular dial on the top of the mower, which ranges from 1.5 to 3.1 inches.
A cover opens up at the back to reveal the battery compartment, a USB connection (for firmware updates), and a compartment for the bundled Find My Landroid module, which provides the mower GPS capabilities. When the mower is parked at home, two charging blades on the right side of the mower connect to the charging blades on the base station.
A rechargeable 20V/4.0Ah battery powers the M 20V. It is detachable and may be used in other Worx 20V cordless power tools such as hedge trimmers, edgers, and weed whackers. Dual brushless electric motors with a maximum sound rating of 63dB are housed beneath the hood. That's somewhat louder than the Honda Miimo HRM 310 (58dB) and the Husqvarna 315X (58dB), but it's still extremely quiet and safe to use at night. A 2.4GHz Wi-Fi radio under the hood links the mower to your home network.
Pros
Outstanding cutting performance.
It's quite silent.
Wi-Fi and GPS radios are included.
A mobile app that is simple to use.
Cons
There is no remote control.
Not great with slopes.
Performance and Installation. The WR147 is simple to install the first time, but laying the perimeter wire may be time-consuming and physically demanding, with much of the time spent on your hands and knees driving stakes into the ground.
It is a Fully automated robotic lawn mower, that can cut medium-sized lawns up to 1/4 acre or 10,890 Square feet and comes with patented AIA (Artificial Intelligence Algorithm) cutting technology that ensures it can pass through narrow paths with ease.
WORX Landroid M 20V (WR147) Specifications
Voltage: 20V MAX
Battery Capacity: 4.0Ah
Acreage: 1/4
Cutting Width: 8 inch
Obstacle Avoidance: Bump Sensor
Wheels: 4
Max Incline: 20° (35%)
Robomow RS630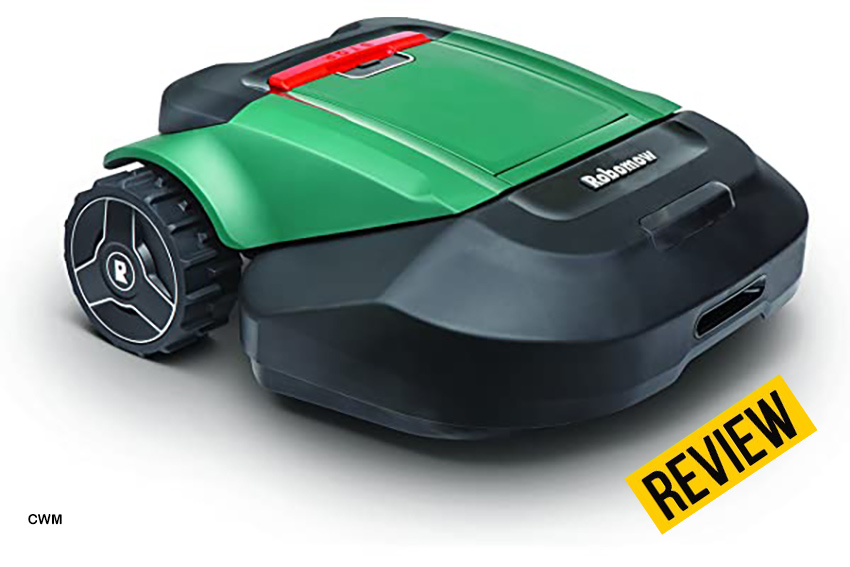 RoboMow is a newcomer to the market, improving their robot lawn mowers over the years, but with their 600 series of robot lawn mowers, they've made quite a reputation for themselves. The RS630 is another wide-body option from RoboMow that features the company's characteristic dual-blade technology that extends to the device's edge and does not leave your yard with gnarly edges that need to be cleaned up. This, along with the fact that it can cut up to an astonishing 34 acres with a single charge
For those with larger lawns, the Robomow RS630 is a great option. This robot lawn mower is designed for lawns up to 2,200 square meters, and it has a cutting width of 22 inches. The Robomow RS620 uses GPS navigation to move around the yard, and it also has a smart charging system that allows it to return to its charging station when it needs more power. Additionally, this model has a quiet operation and a large grass catcher, making it a great choice for residential use.
The RS630 is powered by a rechargeable 26V lithium-ion battery that lasts around an hour. When the gadget detects that the battery is running low, it returns to the base and plugs itself in, which is as frightening as it is practical and smart. While such technical complexity may lead you to believe it's a delicate precision machine, the truth is that it's tough as nails and can handle just about any terrain you throw at it.
Robomow RS630 Setup. While you will have to spend a few minutes establishing the wire border that designates the device's working boundaries, that is about the most difficult portion of configuring your RS630. As far as robot mowers go, this is one of the simplest to set up. Simply enter a few simple instructions and settings into the unit's digital displays and you're ready to go.
Pros
Heavy powerful blades that can cut through thick grass, twigs, and pine cones with ease.
The eco-mode makes this excellent for conserving electricity, not bothering neighbors, and maintaining a beautiful lawn.
The LCD screen guides you through a step-by-step setup process. An educational DVD is also supplied.
If it senses rain, the RS630 will return to its base. It moves at around 1.5 mph.
Edge Mode is used to capture the whole perimeter's edge.
Cons
No Wi-Fi connectivity.
There's a bit of a learning curve setting it up.
Expensive.
Performance. The RS630 is one of the best robot lawnmowers for navigating uneven, lumpy terrain and scary slopes where you're convinced it'll either flip or quit. It copes amazingly well on a lot of different terrains.
Batteries with High Performance. The robust 26-volt lithium high-performance batteries deliver ample electricity for a consistently outstanding lawn-cutting experience. The charging time ranges from 90 to 110 minutes, while the mowing period is from 80 to 100 minutes. Battery life is anticipated to reach 5,000 charges over three to five years before the performance begins to decrease.
Robomow RS630 Specifications
Lawn care
| | |
| --- | --- |
| Recommended lawn size (sq. ft): | 32760 |
| Slopes (%): | <36 |
| Cutting system: | Blade (dual) |
| Min corridor width (feet) | 3.3 |
| Cutting height: | 0.8-3 in |
| Cutting width (in): | 22.0 |
| Mow time (min): | 100 |
| Charging time (min): | 110 |
| Blade motor (rpm) | 4000 |
Functionality
| | |
| --- | --- |
| App support: | Yes |
| Programmable edge-cutting: | Yes |
| Theft tracking: | Yes |
| Ultrasonic sensor: | No |
| Voice control: | Alexa, Yes |
| GPS: | No |
| Connectivity: | Bluetooth |
Weatherproofing
| | |
| --- | --- |
| Robot Lawn Mower protection | IPX3 |
| Charging dock protection: | IPX1 |
Installation & maintenance
| | |
| --- | --- |
| Firmware update: | USB (connect to PC) |
| Installation material included: | None |
| Installation type: | Boundary wire |
Specification
| | |
| --- | --- |
| Size (LxWxH): | 29x26x12 inches |
| Weight (lbs): | 86.8 |
| Noise (dB): | 74 |
Robomow RS630 Specs
Greenworks Optimow 10 Robotic Lawn Mower
The Greenworks Optimow 10 Robotic Lawn Mower is another budget-friendly option (in the world of robotic mowers) that is designed for small to medium-sized lawns. The Greenworks Optimow 10 is one of the two largest robot mowers in the Optimow line.
The Optimow 10 comes with a useful app. Because the robotic lawn mower has no display, the app is important. There is only a start button and an indication that shows if the robot mower is working well or has encountered a problem; if you want to know what went wrong, you must consult the app. However, after you've installed it and used the program, it works well.
The GreenWorks Optimow 10 easily handles simple lawns and is even capable of accessing difficult-to-reach spots. For example, it handles steep hills, sparse grass on softer ground, asphalt, uneven ground, and so on rather effectively. Not quite as well as the very finest models, but close enough to qualify as having extremely excellent accessibility levels.
Suitable for medium to large lawns of up to 1000m2 (almost 4 tennis courts equivalent).
Pros
High levels of accessibility.
efficient mowing.
automatic free software updates.
Cons
Ineffective installation procedure.
Greenworks Optimow 10 Specifications
General
Blade type
pivoting blades on rotating disc
Lawn size suitable for
1000 m²
Cutting width
22cm
Cutting height range
2.0-6.0cm
Number of cutting height settings
30
Maximum incline
35%
Weight
11kg
Height
26cm
Width
50cm
Depth
62cm
Average run time
70 mins
Features
Remote control
No
Self-charging
Yes
Anti-theft features
Yes
Greenworks Optimow 10 Specs
Robot Lawn Mower Conclusion
There are many great options when it comes to robot lawnmowers, and choosing the best one for your needs depends on the size of your lawn, your budget, and your specific preferences. Whether you want a budget-friendly option or a more advanced model with GPS navigation, there's a robot lawn mower out there for you. By investing in a robot lawn mower, you can free up your time and energy for other tasks, and ensure that your lawn always looks its best. So, whether you're tired of manually pushing a heavy mower around the yard, or you're simply looking for a way to simplify your lawn care routine, a robot lawn mower is a great investment for 2023.