The Husqvarna 445 chainsaw is a great well-rounded chainsaw that's been engineered for homeowners who need a balanced chainsaw that's also easy to use. This chainsaw is relatively lightweight and starts immediately every time, whether in hot or cold weather, thanks to Husqvarna's improved choke starting system.
Tale of Contents
This Husqvarna 445 chainsaw is a powerful, easy-to-use, and safe chainsaw. It's a great tool for homeowners and semi-professionals alike. Powered by Husqvarna's 44.7cc X-Torq engine, it has a balanced amount of power to take care of the majority of your cutting needs around the garden. Cutting firewood, and brushes, as well as limbing and pruning are all easy tasks with the Husqvarna 445.
A lightweight and maneuverable; Anti-vibe, with side chain tensioner chainsaw.
Design
The Husqvarna 445 II chainsaw is lightweight and well-designed. It is perfect for those who need to cut through small logs and branches.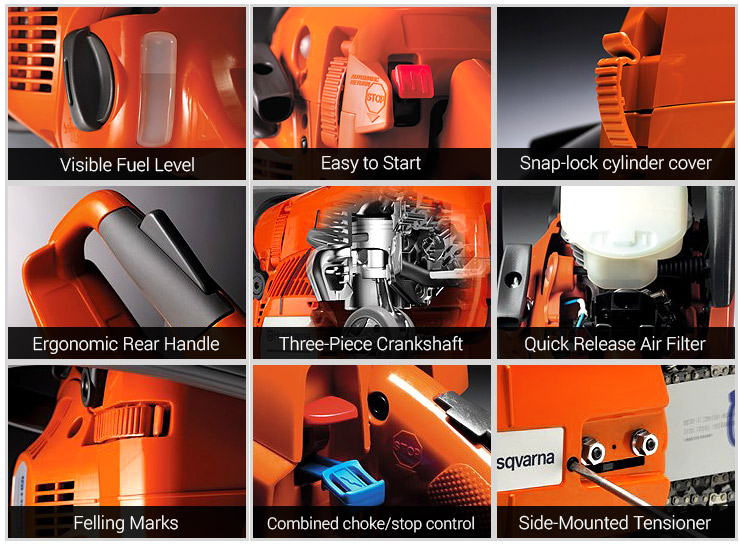 Ease of use
Husqvarna's Smart Start system makes this chainsaw fairly easy to start. A combined start and stop switch as well as an efficient fuel pump, make the chainsaw easy to start. It also reduces the risk of engine flooding. Cleaning the air filter is easy enough thanks to the simple snap-lock cover, which you can open within seconds. Husqvarna's patented LowVib system helps you make more accurate cuts and help to reduce fatigue to your hands while operating the chainsaw.
Safety
The Husqvarna 445 has been engineered with safety in mind, it has a very low vibration, which greatly decreases the risk of any injury. On powerful chainsaws like the Husqvarna 445, this is much appreciated by owners using the chainsaw. It's also safe to use with the chain brake that is activated by pushing the handguard forward (please fully read the operator's manual beforehand on the safe use of the chainsaw). It has a built-in sensor that automatically shuts off the chain when a sudden shift in upward motion occurs while using the chainsaw.
The chainsaw is lightweight, powerful, has a comfortable handle, and is easy to hold for prolonged periods.
Performance
Powered by Husqvarna's 44.7cc X-Torq engine, which is an engine design found in the newer Husqvarna chainsaws. The Husqvarna 445 has quite fast cutting speeds, especially when cutting thinner wood under 10 inches (25 cm) in diameter, making this a very competent chainsaw that will allow you to work efficiently.
The 445 has a 45.7 cc 2-stroke engine capable of generating 2.8 horsepower. The maximum speed of the saw is 9,000 RPM. That's more than enough for the average small farm and domestic home user.
Pros
Power, entry-level firewood chainsaw.
Easy to start and use.
Lightweight.
Durable and will last for years with regular maintenance.
Cons
Somewhat underpowered if you are a professional user or cutting thicker hardwoods all day long.
Non-adjustable oil release system.
The chain can be temperamental at times (according to some owners).
Features
Standard features include:
Automatic oiler
Side-mounted chain tensioning system
LowVib anti-vibration system
Good fuel consumption and emissions ratings
Air injection air cleaning system
Flip-up fuel tank lid
Quick-release air filter
Felling marks
Smart start
Combined choke/stop control
Chain brake
Visible fuel level
Specifications
Model: 445
Engine power: 47.5 cc
Power output: 2.8 hp
Weight: 11.2 lbs (5.08 kg)
Max. length: 16" (40 cm)
Max. power speed: 9000 rpm
Fuel capacity: 0.95 US pint (0.45 l)
Sound level: 103.3 dB(A)
It's often sold with an 18-inch bar